Wedding days are the most magical times in any couple's lives, which is why starting a wedding venue business is one of the most emotionally satisfying ventures that you could ever consider. Better still, delivering an iconic backdrop for the happy couple's big day can be handsomely rewarded.

Before rushing in, though, you must complete the necessary research or face the prospect of making very costly errors. Our detailed starting a wedding venue checklist should give you the strongest foundation to build upon.

Consider Whether a Wedding Venue Business is Right for You

A lot of people see the stat that the average UK wedding cost is over £20k and want a slice of the action. Wedding venues are the most expensive part of the entire process, which makes the prospect of starting a wedding venue business sound very attractive.
However, the harsh reality is that the venture won't succeed if you are not authentic and passionate. As a prospective wedding venue owner, your service needs to be about so much more than the building and location. The best businesses will additionally;

Know how to adapt the venue to suit a couple's needs,
Make the couple feel confident and comfortable throughout the preparations,
Go the extra mile to ensure that couples and their guest have a magic day,
Know how to integrate with other service providers and wedding planners,
Have the ability to market the venue and help client's imagine their big day.

You will also be required to make a relatively large initial outlay and work long hours. You may face stressful situations, especially when working to tight deadlines.

For the right business owner, enhancing a couple's big day is a truly magical thing. If it doesn't quite do it for you, leave this business concept to someone else. After all, the harsh reality is that 60% of businesses go bust within three years.

Know the Legal Requirements for Starting A Wedding Venue Business

If you do have the passion and personality to start a successful wedding venue business, the next job is to research the processes ahead. Firstly, you will need to register your company. Knowing whether you are a sole trader, limited company, partnership, or limited liability partnership will be essential before starting the process. You will also need public liability insurance.

To operate as a wedding venue, your buildings will need an Approved Premises Wedding Licence too. Otherwise, any ceremonies held here will be illegal. If you plan to sell alcohol or have live entertainment from bands or wedding singers, for example, you'll also need a Premises Licence.

As with any business, risk assessments must be conducted for all areas covered by the operating licence. All venues must also " in the opinion of the authority be a seemly and dignified venue for the proceedings".

Before starting the business, you should also know the UK regulations for wedding ceremonies. Perhaps the most telling feature is that all wedding paperwork must be signed indoors, even when couples say their vows outside. This is important information if you are starting a wedding venue on a farm or a similar setting.

Research the Market, Competitors, and Trends

The statistics during the pandemic are understandably lower but, generally speaking, the number of weddings in the UK each year easily exceeds 250,000. Naturally, then, there is a huge market for wedding venues to thrive. Nonetheless, this can only happen when your business is ahead of the curve in relation to market trends.

Wedding trends are evolving for many reasons, ranging from technology and new styles to changing mindsets caused by the pandemic. When starting a wedding venue business in the modern market, you must acknowledge that smaller parties are increasingly popular due to funding and social distancing. Likewise, concepts like buffet meals are on the way out for safety reasons.

Other personal trends include themed weddings and colourful decor. The traditional whites and floral patterns are still preferred by some couples, but appreciating the generational shift is vital. Similarly, given that your wedding is almost certainly not a church, synagogue, mosque, or temple, ceremonies are unlikely to have strict religious themes - although the couple may still want elements of their faith to be celebrated.

A colossal £9.4bn is spent on wedding days in the UK each year (pandemic aside) and the majority of venues are independent or small chains. Market research into venues in your location should cover the following steps;

Make a note of how many venues are available and note their sizes,
Research their popularity with clients as well as their pricing,
Note what type of wedding services they offer to see if you can find a USP,
Visit the venues by visiting the public areas (like restaurants) during a wedding,
Ask friends and family for their opinions (good and bad) about their experiences.

Identifying what works in your area is vital and can help you complete your full business plan. Don't forget there is a UK Wedding Taskforce which represents the entire industry and can be a source of valuable information.

Decide Which Type of Weddings to Offer & Price Your Services

Some venues are better suited to one type of wedding over another. While your business may be able to appeal to all, many venues find that focusing on one or two makes it easier for branding purposes. Essentially, it's better to get bookings from one demographic rather than failing with them all.

A focus on one type may help you decide the layout of ceremony spaces and reception spaces, even when there will be contrasts in the final design from one wedding to the next. It also gives you a better chance of using many of the products on multiple occasions. The six types of wedding to consider are;

Religious ceremonies,
Civil ceremonies,
Non-denominational ceremonies,
Humanist ceremonies,
Same-sex weddings.
Once you know what type of weddings you will offer, you can think about the USPs that set you apart. When starting a wedding venue on a farm, for example, you may focus on the rustic vibes, glorious landscapes, and personal touch. Whatever route you decide to take, be sure to allow for personalization. Personalized packages can include various options for ceremony setups, decor themes, catering choices, and nusical entertainment. Personalization allows couples to tailor their wedding experience to reflect their individual styles and preferences, making their special day even more memorable. it also enables you to easily sell add-ons and upgrades.

As for pricing, several factors will influence the costs. For starters, it depends on whether you are setting yourself out as an affordable or luxury venue. Other influential issues include the venue size, the day of the week that a couple books, the season, additional services, and whether they are staying at the venue overnight.
Identify Local Vendors and Suppliers

Establishing strong relationships with local suppliers can significantly enhance the offerings of your wedding venue business. Consider partnering with florists, photographers, caterers, interior designers, and other professionals who can contribute to creating a seamless and memorable experience for couples and their guests. The first step is to research which suppliers are a good match for you by analysing a range of factors such as price point, suitability, reliability etc. If you are just starting out don't overcommit to binding agreements, keep things flexible until you have a trusted relationship. Even without a rigid contract, collaborative efforts can lead to cross-promotion and referrals, benefiting all parties involved.

Select an Event Management System

Whether you offer full wedding planning services or focus solely on providing the perfect venue, your job will demand great organisation. Many different elements will need to be calibrated and collaborated, which is why creative flair and vision aren't enough unless the admin aspects are also under control.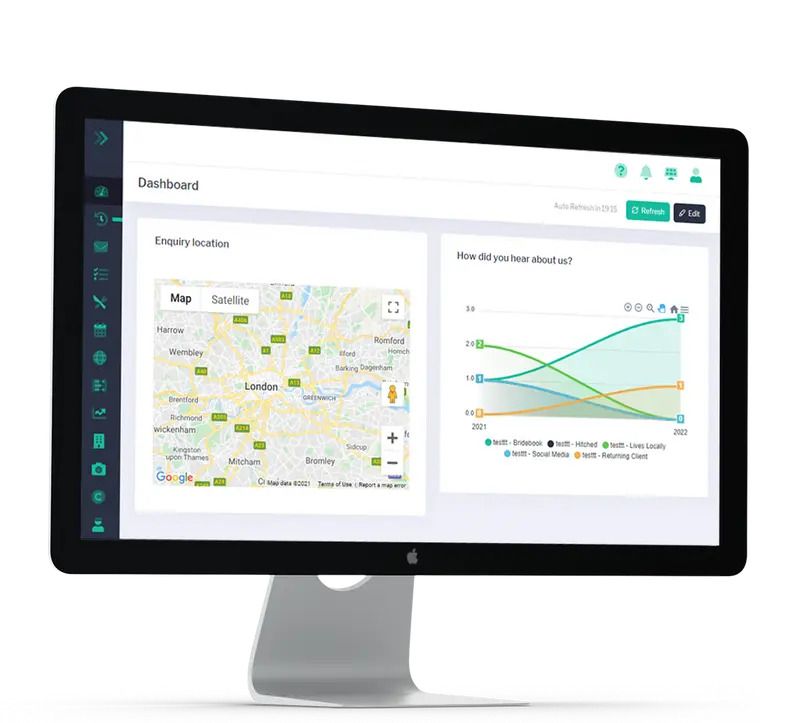 A dedicated event management software for wedding venues is, therefore, the most important tech asset you'll ever possess. It allows you to manage all events (even across multiple venues) in one place, putting an end to the days of running multiple apps and experiencing problems due to syncing issues or unnecessary complications.

Crucially, a system that is built specifically for wedding venues means that all key elements are covered in a scalable fashion. This includes elements of;

With a cloud-based system, you can access data from anywhere in the world and collaborate with authorised workers to ensure that the happy couple receives the big day that they deserve while the company sees a healthy profit.

Hire & Train Staff

Arguably the most significant item on the starting a wedding venue checklist, at least once the operations have started, concerns assembling the right team. There is a long list of people who you may need, including but not limited to;

A registered and authorised ceremony official,
A venue greeter and host,
Interior designers and general assistants,
Bar staff and other entertainment,
Chauffeurs for the bride and groom,
Hotel or guest room staff,
Cleaners and toilet attendants,
Marketing teams,
Admin teams and receptionists.

Not all wedding venues need all of those people while some jobs (like marketing) aren't needed at the venue or on the day itself. Nonetheless, staffing is a major aspect of the wedding venue start up costs and must not be ignored.

When posting job vacancies looking for the best candidates, you must consider the personalities and reliability as well as the skill sets. This is particularly important when considering the client-facing roles as promoting a friendly and calming atmosphere is a key part of the big day celebrations.

Training the team to ensure that everyone is on the same page will be another crucial factor that can boost productivity and profitability while also putting your mind at ease.

Conclusion

The wedding industry is one of the most profitable and sustainable outlets for starting a business. If you have a passion for making people happy on their big day and have a suitable venue that can provide the perfect backdrop for the celebrations, you're already halfway to success.

You can say "I do" to success by supporting yourself further with the right licences, event management systems, and employees. To find out more, drop us a message.