We will all remember 2022 as the year when the post-pandemic wedding boom began, but what does this mean for weddings in 2023? Following a period of stringent limitations a large number of weddings took place in such a short amount of time. Now, the conventional wedding in the UK is undergoing significant change. The main wedding trends of 2023 are around reinventing the wedding in a way that is more personalised to couple preferences and delivering more authentic experiences.
The wedding trends of 2023 will evolve the concept of weddings as we know them, and they will do it in a variety of ways. Some will be relatively minor aspects such as more segmented guest lists while others will touch larger topics such as environmental impact.
Let's take a closer look at some of the key wedding venue trends for 2023.
Outdoor weddings
Before the COVID-19 pandemic, the only way to get married outside in England and Wales was if the wedding site had a licenced structure like a pagoda or bandstand. However, as a result of the pandemic, many engaged couples decided to have their weddings outside for reasons of personal safety. As a result, temporary permission was granted to allow licenced venues to hold ceremonies outside, regardless of whether or not the venue had an outdoor structure.
Due to this being requested so frequently, it was eventually made a permanent change, and now you are free to hold ceremonies in almost any outdoor setting as long as your venue has a valid wedding licence.
Couples are now able to marry amongst trees, in front of a water feature or any number of other outdoor environments. This empowers couples to design their day more precisely than ever before. From the venue's point of view it increases the type of weddings they are able to offer and allows venues with outdoor grounds to adapt their offering more closely to what the couple may have in mind. Overall, this is a win for all concerned.
Daring colour schemes
In 2023, we are seeing that daring and one-of-a-kind colour palettes will be a prominent trends. Many will stick with white dresses and pastel colours but increasingly couples will be more adventurous. A growing number of engaged couples are already deciding to have weddings with colour palettes that are not only bold but also unforgettable. This part of a wider trend of wanting their individual personalities to be reflected better in the day's visuals. This includes the wedding venue decor so be prepared for bold colour requests or customised imagery!
Backdrops for the ceremony
Creative ceremony backdrops are another trend for 2023. When it comes to the decoration of their ceremonies, more and more couples are innovating.
From statement arches to hanging plants, there are numerous ways to make your ceremony venue more unique and more impactful. This will also help to make the photographs that are taken at your wedding venue even more spectacular - and it's a great way to promote your venue on social media. Lot's of reasons to embrace this change!
Sustainability
From 2023 onward, it will be much more difficult to obtain single-use plastics such as plastic straws and drink stirrers, and other products that are harmful to the environment. This is due to government legislation which impacts the country as a whole. As for weddings, couples are conscious that their big day should not mean a big impact on the environment. Whether it is through the use of sustainably sourced fabrics, locally produced food or reduction of one-use items, couples will expect venues to lead the way in offering greener weddings.
Multiple-day weddings
Weddings that span multiple days are becoming increasingly popular. These longer more complex events might begin with a pre-wedding party, a night spent with friends and family to celebrate the last day of being single, followed by the day of the wedding. After the big day there will perhaps be a reunion with some of the guests to enjoy a more intimate brunch and finish off a magical weekend. It's worth noting that, in parallel, micro weddings are also growing so in general we can say there is a trend toward greater variety and a move away from a one size fits all wedding.
New bride and groom traditions
Rather than adhering to the traditional practice of not seeing each other before the "I do," more and more engaged couples are instead opting to participate in a "first look" session. This provides the pair with an opportunity to spend some quality time together before the ceremony begins. It gives them the opportunity to truly savour the moment in a less hectic moment, and it ensures that they will have some seriously moving wedding images to look back on in the future. The first look also provides an excellent opportunity for photographs to be taken with the couple, selected members of the family, and any other significant loved ones. On the day of the wedding, natural emotions like this are priceless and are often the ones chosen to be displayed for future generations.
Embracing the tech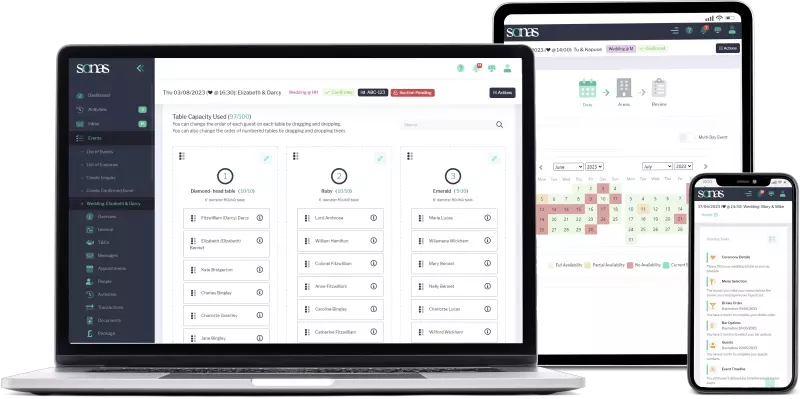 Although there is a growing trend toward "unplugged" nuptials, other bride and grooms are finding ways to include technology into their weddings. Wedding apps continue to be an excellent medium via which to disseminate invitations and keep tabs on guest lists, RSVPs, dietary preferences, and even presents registry. From the venue point of view, software is increasingly being adopted to help them manage more bookings with the same resources. Here at Sonas, our wedding venue management has never been in more demand!
Direct flash photography
The use of direct flash in photography is not new to 2023 but continues to become more common, particularly inside venues. It provides for magnificent photos with a glamorous edge, and it lends the after-party energy of being frozen in time nearly to the point where it can be touched. Artistic advances such as these are often lead by third party photographers and help to make the couple's final photographs even more breath-taking. Similarly some couples are re-embracing film; the texture of the film as well as its distinctive film burn add something unique to a set of photos which sets them apart.
Micro weddings
Weddings that are smaller in scale and take more thought continue to gain popularity. Getting married to the person you love has in many ways become a more personal experience, and many couples are avoiding the traditional "big day" in favour of more intimate gatherings for the ceremony and reception. This allows for a more meaningful event but also has the advantage of being more economical during what is an extended cost of living crisis. On top of that, smaller events are kinder to the environment, reducing the couple's carbon footprint due to the reduced amount of guest travel and food.
This is not necessarily an exhaustive list but knowing these trends can help you to ensure your wedding venue business is up to speed with consumer demands and able to adapt to different expectations.