The UK wedding industry is worth £14.7 billion, with £28 billion revenue forecast over the next two years. With one million pending spouses getting married after the pandemic, the wedding sector has needed to adapt quickly. There is no doubt that the immediate future is bright for the industry, with engagements and postponed nuptials providing many opportunities for both new and existing businesses to thrive. This article offers a comprehensive overview of the UK wedding industry, along with what we can expect from the market into 2022.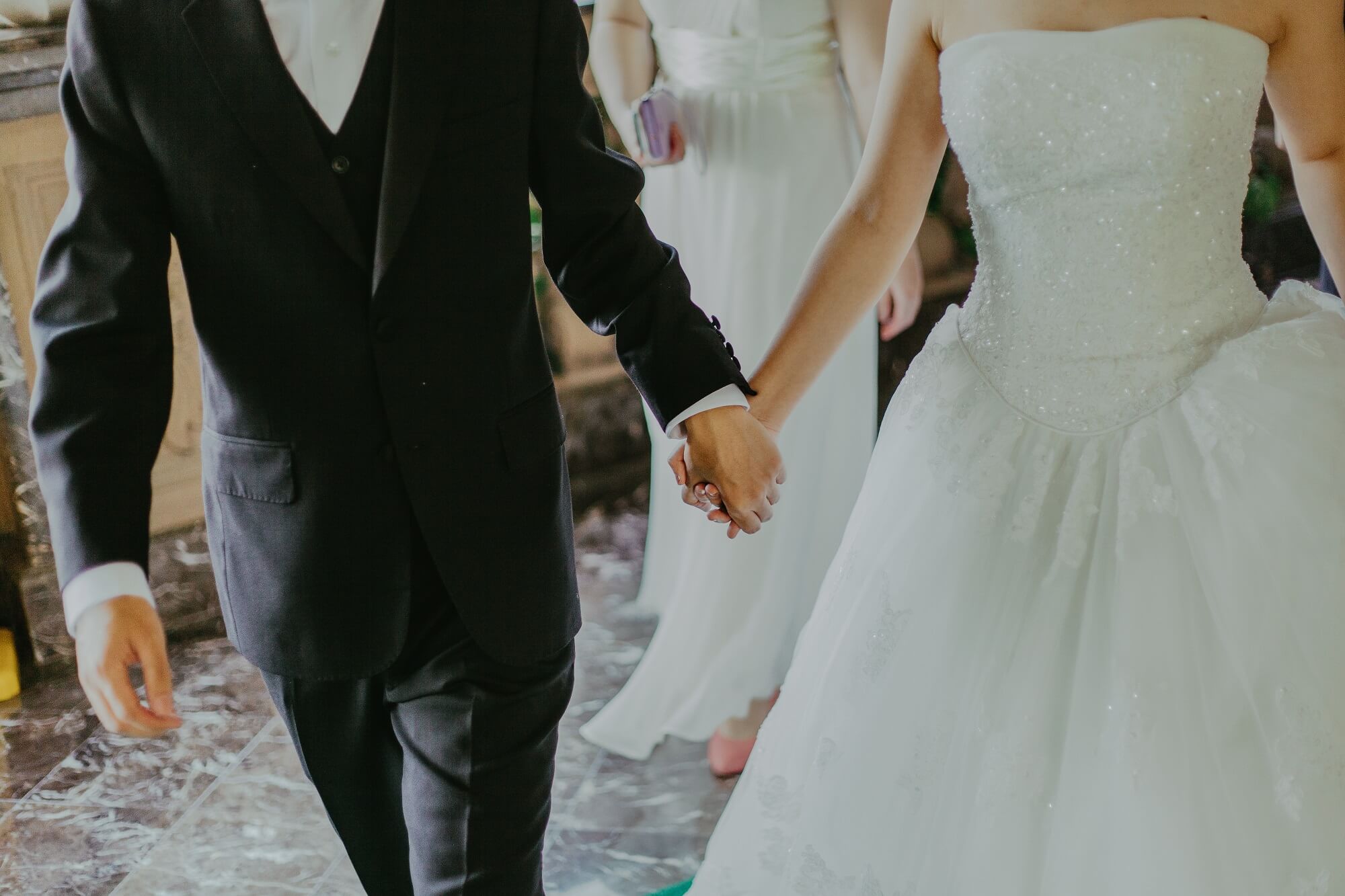 Who Got Married In 2022?
The wedding year of 2022 has been a whirlwind of event management for wedding venues new and old, with at least 71% of couples having had to postpone their weddings in 2020 according to a survey from Hitched.co.uk and not all finding suitable dates in 2021. Only two of every five couples who postponed their weddings in 2020 opted for a wedding in October, November or December of 2021, leaving the rest to be fitted in during 2022
The unusually high percentage of postponements led to the creation of the the UK Weddings Taskforce, an organisation established to represent the UK wedding industry during the pandemic. They conducted a comprehensive study on the market and discovered that on average, nearly 280,000 weddings take place every year. Of that almost 265,000 weddings were cancelled over the two year pandemic which have been spread out over 2021 and 2022. In addition to this backlog there are also around 280,000 newly engaged couples hoping to get married every year and 2022 was no exception.
This unique situation was beneficial to the UK wedding industry in 2022, with a strong wedding pipeline helping to both recover lost business during the pandemic and giving confidence for the future. The average cost of a UK wedding is currently £31,000, with projections of £28 billion revenue within the next two years, subject to economic conditions.  Weddings are also expected to bring in around 50 million guests helping to support the UK wedding industry and participating businesses.
Which Businesses Work In The UK Wedding Industry?
The UK wedding industry supports a huge variety of businesses, from catering companies to travel agents. The below list is not exhaustive but covers the major wedding businesses in the UK:
Food & Beverage Sector
Caterers rely heavily on the UK wedding industry, with the Money Advice Service suggesting that an average wedding caterer will receive £4,000 per wedding. Wedding cakes are also a significant income for independent wedding cake artists and bakeries each year.
Entertainment & Leisure Industry
The entertainment and leisure industry is supported by weddings, providing a stable income for many musicians and independent artists. Leisure also plays a significant part of the pre- and post- wedding experience, with an average cost per head at a hen do totalling over £200 and the average honeymoon costing £4,000.
Independent Businesses
The wedding industry supports thousands of independent businesses including bridal boutiques, photographers, venues, florists, officiants, car rentals, hair and make-up artists, wedding planners and jewellers. Each of these businesses may rely solely or largely on the income generated from weddings.
Wedding Venues
Wedding venues are often a one-stop-stop for brides-to-be as they offer their own suppliers, services, attendants and rooms for the day. Traditional venues like country homes, barns and even castles almost exclusively rely on weddings as their main source of income.
Despite the convenience of an all-in-one wedding venue, many couples are choosing to take a DIY approach instead, renting the venue but taking charge of their own decorations, catering and 3rd party suppliers. This is an attractive option to couples with a creative talent but also to budget-conscious brides and grooms.
Small wedding venues such as golf clubs, restaurants, lodges or terraces are also cropping up as viable alternatives for small scale receptions. They allow a more affordable way to hire an entire venue and sometimes have more meaning for a couple being places they may already have an emotional attachment to.
The UK wedding industry supports businesses across an extremely diverse range of sectors, and it's clear that the return of weddings will be a huge relief for companies across the UK.
Who Are The Biggest Companies To Watch In The UK Wedding Industry?
Titans of the UK Wedding Industry include Hitched.co.uk, an online wedding advisory service that offers comprehensive advice to couples planning their wedding with lists of suppliers, a wedding guest manager, budget tracker and free website generator. The company is owned by Immediate Media Co, who also own the wedding magazine You and Your Wedding. Bridal magazines like County Wedding Magazines are also a strong voice in the market as they are often the first point of call for brides searching for suppliers, venues and wedding planners.
What Does The Future Of The UK Wedding Industry Hold?
The pandemic has accelerated the presence of wedding tech throughout the sector, as many suppliers and wedding planners tried to switch their events to digital in 2020. Many wedding fairs were successfully hosted online, while some smaller weddings included their quarantined guests with video livestreams and virtual receptions.
The effects are likely to outlive the pandemic as most wedding venues have no choice but to turn to tech to increase their ability to book and manage suppliers. This is most clearly seen in the adoption of  event planning software to handle the wedding pipeline backlog and increased future bookings.
Beyond tech, many other wedding trends first seen in 2021 may also help shape the future of the UK wedding industry:

Outdoor weddings - the pandemic saw outdoor weddings offer far more flexibility to safety restrictions, wedding numbers and supplier hire. Even indoor venues are having to adapt to hybrid ceremonies involving an outdoor element.

Weekday weddings - with weekend weddings now at even more of a premium, weekday weddings will become more frequent and desirable in 2022. The rise of flexible working also makes this a more reasonable option for many guests.

Intimate weddings - tradition went out of the window in 2020, with many smaller and more intimate weddings not only necessary, but preferable. This is part of the scaling down trend which caused the emergence of elopement and we can interpret intimate weddings as an extension of that - elopement without the travel.

Post-COVID wedding parties - smaller weddings were en vogue in 2021 & 2022, many guests could no longer attend due to increased restrictions while others preferred to stay away from a mass gathering. The post-COVID wedding reception trend allows spouses to say thank you to the guests that couldn't make it to the wedding.

Virtual events - while many people are enjoying being back together in person, virtual events are now more possible than ever before, allowing hen dos and stags to include people that are unable to attend.

Increase in rentals - wedding dress rentals are forecast to be an increased trend in 2022, with wedding dress rental searches increasing by as much as 268% in 2021. Other items that might be rented more often in the future might include wedding tents which could be fuelled by the outdoor trend mentioned earlier.
Necessity is the mother of invention and with some of the adaptive trends observed in 2020 and 2021 were so successful during the pandemic, it will be interesting to see which of these will become the new standard in 2023 and beyond.
The UK Wedding Industry:A Sector On The Rise.
Forecasts for the UK Wedding Industry look healthy, with forecasts showing an increased variety of wedding styles that could diversify the market even further. As couples look to finally celebrate their postponed wedding, book a venue for the first time, or celebrate a delayed reception post-nuptials, there's many opportunities for companies to engage with excited brides and grooms to be.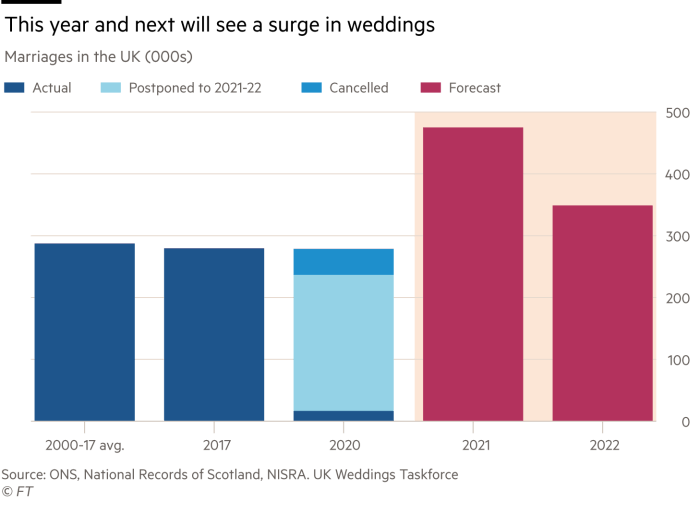 As new behaviours such as conducting outdoor weddings allow innovative businesses practices to develop, it's exciting to see how this collides with surging demand to fulfil postponed and delayed ceremonies. Wedding software like Sonas will allow venues to keep up with supplier management, accounting and wedding floor plans freeing up time to focus instead on the innovative and caring touches that will bring weddings to the next level.  
Own a wedding venue? Find out more about what wedding specific software could do for your business.