How to use Social Media To Market Your Wedding Venue
Scroll Down
In the past, couples would leaf through marketing brochures before settling on a wedding venue. But with the rise of social media, that's no longer the case. These days, almost everyone is using online channels to decide where they're going to get married.
For this reason, visual sites like Pinterest, Instagram and Facebook are chock full of venue operators marketing and showcasing their facilities. They're trying every trick in the book to grab their audience's attention and you need to be among them.
In this post, we take a look at some high-ROI social media marketing strategies you can use to promote your wedding venue and secure more bookings. Read on to learn more.

Use the Right Platforms

Practically all social media platforms are amenable to wedding venue marketing, but they each require a unique approach.
Instagram is all visual. Successful wedding venues constantly post photos of recent weddings (with couples' permission), showcasing their facilities and the type of experience prospective customers could have. They also invest in Stories by taking quick, short videos of behind-the-scenes action, giving audiences deeper insights into what the venue offers.
If you use Facebook, be sure to regularly update with recent wedding shots or videos. Try to make each post consistent so that you can develop a brand style. Talk about the beautiful table decorations or flower arrangements. Remember it's ok to recycle photo or video content across platforms, you don't always need to record specific content for each platform. Learn the dimensions of each format and use a video editor or photoshop to crop to fit.
On Twitter, share photos or short-form content but make sure you leverage targeted hashtags. These enhance your reach beyond your followers to all couples thinking about tying the knot in the future. Follow other venues to see how they are doing it.
Last but not least, you definitely want to explore Pinterest as a top of funnel source of traffic. This is often the first place wedding thoughts start and you want to be part of those initial wishlists and moodboards. After creating boards with lifestyle pictures of your venue, you can explore how to transform your blog posts into pins and even go pro with tools like Tailwind.

Tailor Ads To Your Audience

When it comes to audience targeting, not all platforms are created equal. Some have more advanced algorithms than others.
The leader is Meta which owns both Facebook and Instagram as well as Whatsapp. The wedding industry is worth around £10 billion a year, and most people of marriageable age are using at least one of Meta's social platforms but the real attraction is the laser targeting.
Facebook provides advanced methods to target your advertising to newly-engaged couples. Go into your Facebook Ads Manager account and then create a new audience. Give the audience a name and then fill out the remaining fields.
Then scroll down to the Detailed targeting section where you can define parameters such as age and geography. Select Demographics >> Relationship >> Relationship Status and then check "engaged." This way, your advertising campaigns will only appear to those who plan on tying the knot. There's no need to spend marketing pounds on those who aren't your target audience.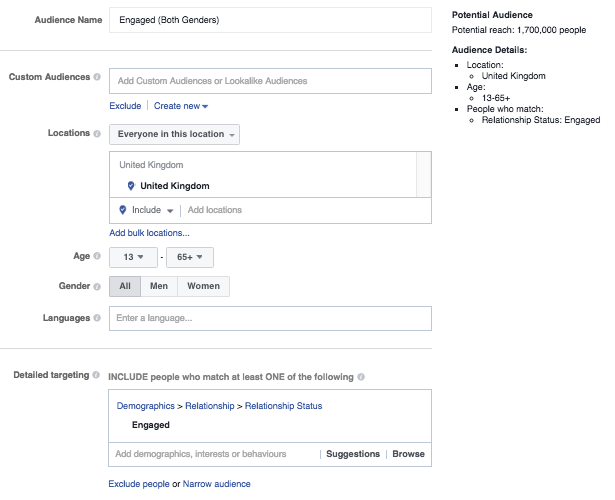 Use Quality Photography

Engaged couples need to be able to imagine getting married at your venue. Other than a site visit, quality photography posted to all your social media marketing channels is the best way to help them do this.
Most wedding venues work with experienced photographers and videographers. After a wedding, they ask their permission to use their shots. They may also hire corporate photographers to take compelling images of the venue itself, without any people in it.
Either way you should have no shortage of high quality imagery to spread on social. Having said that don't underestimate the power of user generated content (UGC). Even if it is not quite a professional, it feels real and people tend to relate and engage more with this type of content. If you are the kind of business that wants a pristine looking and controlled feed you can still use UGC in stories which have a high audience reach but are ephemeral in nature.
Use Hashtags

Pinterest, Twitter and Instagram all make heavy use of hashtags. You can think of these as markers that denote what your posts are about so that when users search for them, they can find you. Wedding venues, for instance, might want to use hashtags such as:

#weddingvenue
#romanticweddingvenue
#weddingvenuelondon
#weddingvenuecardiff
#weddingceremony
#weddingflowers
#ukweddings

To find the optimal tags, you'll need to do your own research. Primarily, you'll want to focus on including hashtags that apply to the area in which you operate. You'll want to cover a mix of broad hashtags which have high volume but more competition and niche hashtags which are highly relevant to your business. Be careful not to overdo it, looking spammy is never classy.

Tag 3rd Parties

Whenever you post wedding photos online, you should get in the habit of tagging both the couple, guests and any of the suppliers used. This way, images of your venue will pop up on the tagged person's feed. When their audiences browse their accounts, your venue will get free exposure.

Post More Often

If you aren't a social media queen it can feel like a pain but you need to post consistently. According to Hootsuite research, most businesses should aim to post one to two times per day on social media (and not more than around 5).
When posting, try to tell a story about your wedding venue. Narratives help keep your audience engaged. Also, avoid posting multiple updates all at once. Instead, spread them out throughout the day or week, giving your prospects time to digest them. Also take time to comment and like on other accounts' posts. Social media is all about reciprocity and you will grow your account significantly as well as display your business personality by engaging positively with others.

In conclusion, marketing your wedding venue on social media involves multiple channels and takes time. You will find that you spend more time planning than actually posting and you may need to learn how to use a few tools. However, over the long-term, it will pay you back in dividends and is incremental in nature. The more you grow your presence, the easier it is to grow some more.